Zhejiang Dayuan Pumps Industrial Co.,Ltd.is established in 1990, we have been sticking to the enterprising spirit of "make great efforts to build a strong enterprise and pursue excellence." Which makes Dayuan a well-known enterprise in research, development and manufacturing of pumps, company owns a subsidiary of Hefei Xinhu shield pump Co. Ltd.。and has about 1200 employees, covering in area over 150000 square meters, owns the total assets of nearly 367 million RMB and its annual sales revenue of 650 million RMB. Dayuan pump industry dedicates itself to the pump industry and makes all-out efforts to be it larger and stronger ,during 20 years gained successively of their honors such as famous trademark of China, enterprise with AAA industrial credit of China. Great A enterprise in drainage in irrigation machinery industry in China. Provincial high-tech enterprise ,renowned trait name of the province, and famous brand of the province .Honors are also responsibilities which always inspire Dayuan pump industry to continuously develop and stride forward.
Company specialized in R & D, manufacturing, sales of all kinds of agricultural water pumps, household water pumps and engineering construction pumps。The main brand "DAYUAN" pumps, have excellence performance, and first-class quality。The product sales network covers cities, provinces of China and numerous towns with more than 2,000 marketing service outlets. Over the years DAYUAN has participated in all kinds of international exhibitions and making the products of the company export to 57 countries and region(s), such as South Korea, Southeast Asia, Europe, the Middle East and South America. Products are also highly praised by customers in the market. For many years of devoted development, the products have obtained 112 national patents which including 22 invention patents and passed 59 certifications such as KS、CE、GS、TUV、ROHS, and product energy saving in terms of quality, stability, reliability and environmental protection in the products are widely recognized. The trademark of "DAYUAN" has been registered in the United States, Italy, Germany, Thailand and other 31 countries.
To enhance the overall level of the research and development of enterprise, the layout of the domestic and international high-end pump market, A largest shield pump production base was built in Hefei in 2012, and responsible for national shield pump industry-standard drafting work. With its scientific and technical level has been at the leading advanced level in domestic and international market. Products used in many fields, such as military, chemical, metallurgy, nuclear power, EMU, central air conditioning unit, Etc.
Headquarters
registered capital :164 million 248 thousand RMB

The nature of enterprise :Private joint-stock enterprise

The company plant area : Covers an area of 72 acres, plant area of 95 thousand and 300 square meters

Employees:900 people

Place of incorporation:Danya industrial zone , ZEGUO town, WENLING city ,ZHEJIANG province.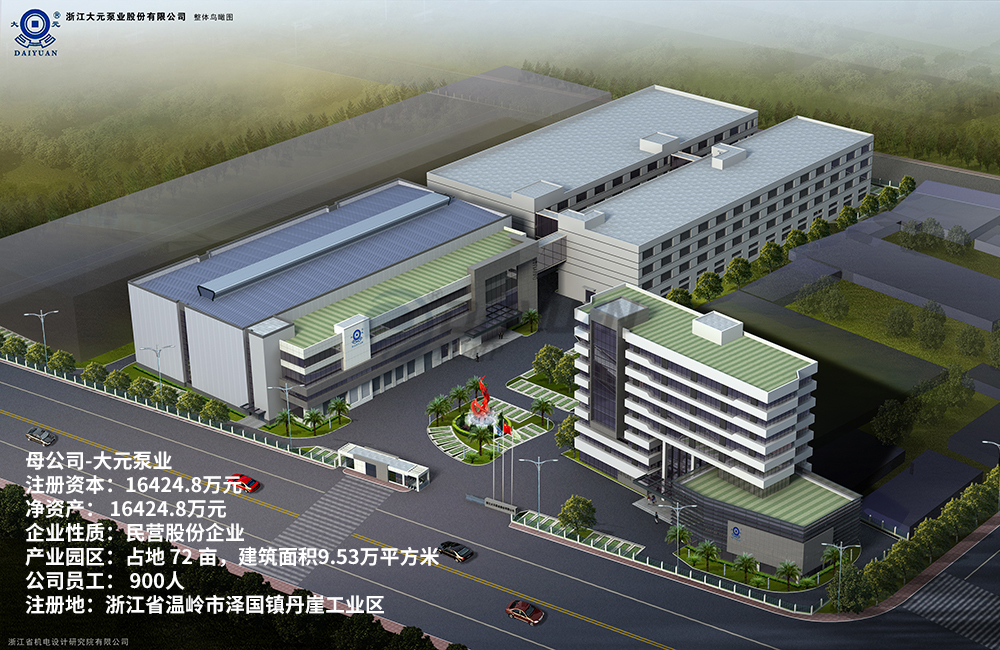 Subsidiary-XINHU HEFEI
registered capital :215 million 150 thousand RMB

Fixed assets: 215 million 150 thousand

The nature of enterprise :Private joint-stock enterprise

The company plant area : Covers an area of 142 acres, plant area of 85 thousand square meters

Employees:1000 people

Place of incorporation:No. 1, Yanglin Road, Baiyan Science and Technology Park, High-tech Zone, Hefei City, Anhui Province